Dr. Chandramouleeswaran P, Principal
---
This institution had a great beginning, a glorious past, and a dynamic present. Not resting on the laurels would be most appropriate. Edematous growth and pseudo assets have become the new norms in many fields. A busy hospital, a full spectrum of clinical skills made available on the ground, and producing employable graduates have been identified as the factors that would propel this institution into the zenith of glory.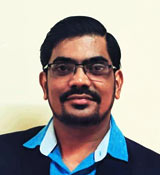 Teachers who beyond the call of duty will find this institution ideal for long term engagement. Similarly, parents who have realized that the training should be tougher than the job will wish their children an opportunity to learn here. To achieve all the above, we have a great set of teachers who do not hesitate to learn and transform, and students who are willingly subjecting themselves to the positive influences of such teachers.
To achieve all the above, we have been blessed with a management that is over observant, appreciative, supportive and protective.